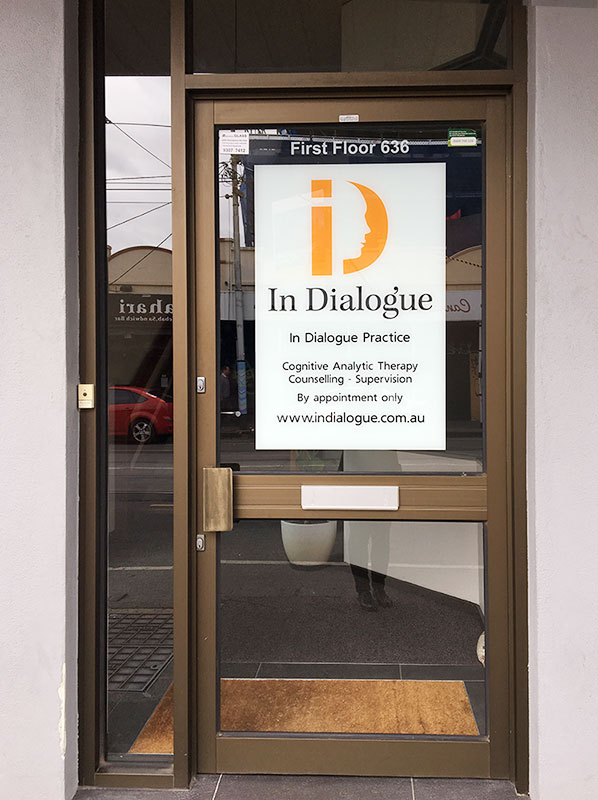 First Floor, 636 Sydney Rd, Brunswick
Victoria, Australia 3056
Ph: (03) 9191 6726
Fax: (03) 9978 9414
Travelling to In Dialogue
Tram #19 stop 25 (Stewart St).
Anstey Station is nearby at Albion St and Orient Grove.
Parking on city bound side of Sydney Rd between 9am and 6pm Monday – Saturday for 1 hour. Clearway from 7am – 9am.
Parking on out bound side of Sydney Rd from 8am – 4pm Monday – Saturday for 1 hour. Clearway from 4pm – 6pm.
2 hour parking on Eckersell St behind In Dialogue Practice with a lane that will lead you to our Sydney Rd entrance.
2 hour parking on nearby DeCarle St.
Council carpark at 682 – 688 Sydney Rd. $2.50 per hour from 8am – 6pm.
Our office is located on the first floor. There is a short flight of stairs to reach reception. Unfortunately there is no lift.
Contact In Dialogue
To contact In Dialogue Practice to request an appointment or another service, please use the email form below. Answers to frequently asked questions about appointments at In Dialogue, are listed at the bottom of this page. For Training  and consultation enquiries, please email training@indialogue.com.au
This email is not an emergency contact and you may not receive an immediate response. For urgent assistance please call 000 or visit your local hospital or GP or call your local community mental health team – the contact for Victoria's community mental health team can be found at Victoria's Mental Health Services website.
Frequently asked questions
Why are Occupational Therapists and Social Workers, as well as Psychologists able to provide psychotherapy?
Most clinicians who work in public mental health require what is called a "core degree" such as clinical psychology, social work, occupational therapy or psychiatric nursing. These professionals may also train in providing psychotherapy, such as Cognitive Analytic Therapy. Psychotherapy involves using talking as the main tool or intervention in order to understand, manage or change problematic thoughts, feelings and behaviours. All our practitioners have studied one or more psychotherapies as part of, or on top of, their core degree.
Can I get a Medicare rebate?
Yes, if you are referred under a mental heath care plan from your GP or psychiatrist you will be eligible for a rebate from Medicare. All our practitioners are registered medicare providers.
Do you charge a gap fee?
Yes, we do, although we also charge less or bulk bill for those people on concession cards. Please call to discuss.
What can I expect from the first session?
Broadly, the first session is where we seek to get to know a little about you and what is troubling you, as well as giving you the space to ask questions about how we work or what therapy may look like. You do not have to discuss anything that you feel too uncomfortable revealing. The session usually goes for 55 minutes leaving five minutes for billing.
What should I bring to the first session?
Bring your Medicare card (or number) and, if you have one, your referral from your GP or other health professional. It is often useful to know if your Medicare card is linked to your bank account so you can claim your Medicare easily. You can check or link your Medicare to your account through the Medicare site.
How many sessions will I need?
This is difficult to answer as everyone is different in their approach to change and in how much support they need to achieve that change.
Cognitive Analytic Therapy (CAT) is a time limited therapy which aims to develop a shared understanding of the relational, thinking and behavioural patterns underlying a problem, and identify more helpful alternatives. CAT promotes the belief that people can develop their own expertise and continue to work on change independently after therapy. How many sessions this will involve varies. The nature of the problem to be addressed, as well as practical considerations such as time and finances, all play a part.
As a guide most people have ten to sixteen sessions. It is useful to talk about this and agree to an amount of sessions that both your therapist and you feel is realistic in the first few sessions. We can always change this as we get further into therapy.
What if I don't want to continue with therapy/counselling?
If you have decided you do not want to continue it would be great for you to discuss this with us, we would like to know if you are unhappy with your sessions, expect more or something different. Alternatively, you may feel that you have done enough for now, it is a collaborative therapy and you should feel comfortable deciding what is enough.
It is also possible that you may prefer to work with someone with a different style, we are open to this as therapy is very personal and not everyone is suited to one approach or therapist. If this becomes the case we are happy to discuss this with you and help you access a mental health care provider, either at In Dialogue or somewhere else, more suitable to your requirements.
What if I need to cancel or change my appointment?
We understand, sometimes the unexpected happens and you will need to change your appointment. We ask that you provide as much notice as possible, so that the appointment time can be offered to someone else in need.
If you provide less than 24 hours notice we reserve the right to charge you a cancellation fee. This helps to partially cover the costs and loss of income incurred by your therapist.
Medicare rebates are only available for face to face services provided, so no portion of this fee will be claimable.
Who will have access to my information?
Just like any consultation with a health care service, your information and what you discuss is private. Therapists keep a brief written summary of your sessions, these files are kept in a locked cabinet in a locked office or through e-files that are secure and can only be accessed by the clinician. Your information will not be disclosed to others except in the following circumstances:
you provide a verbal or written request for your clinician to do so, eg in a. support letter.
you are referred under a mental health care plan, in this case the clinician is required to provide a brief report to your referring GP, this usually consists of your diagnosis (if any) and a few lines update on the focus of therapy, treatment plan, progress and suggested follow-up.
you are at risk of harm to yourself or others, in which case your clinician has a responsibility to elicit appropriate support in order to maintain safety.
when required by law (court subpoena) to disclose information.
If any of these situations arise your therapist will endeavor to discuss with you what will be disclosed.
How do I get to In Dialogue?